Advertising with The Wireless FM is great value
The Wireless 90.4FM is the sister station of Heads FM 106.4, your own local radio stations covering Mangawhai and the Bream Bay region, and streaming live to the world on iTunes, TuneIn and or just by clicking our logo on this website. The Wireless 90.4FM is 100% New Zealand owned and totally independent from overseas networks.
Essentially we offer two low-cost advertising options:
Sign up for one month, or more and you get 3 airplays of your commercial per day.
Sign up for six months, and you get the same amount of spot plays for a 50% discount. That means your ad plays for less than $1.50 a spot!
(Contact us via phone or email for our current rates).
But wait, there's more…! Not only do you get this advertising on the Wireless 90.4FM, but you get the same spot plays on our sister station, Heads 106.4FM for the same period. (Because "two heads are better than one!").
Creating your advertisement is an easy process.
We use an award winning team of writers and voice talent to produce a professional message for your business.

You send us the "bullet points", or your own copy details, and we'll write up the commercial for approval, before recording.

Because we are only a small team, you'll deal directly with us, so there'll be no confusion or delays….you'll be on air as fast as possible.
The Wireless FM offers a fantastic opportunity to reach the many local residents in what is now the fastest growing region of lower Northland, plus an expected audience of nearly 20,000 over the summer months in the popular holiday destinations of Mangawhai Heads, Langs Beach, Waipu Cove, Uretiti and Ruakaka.
Local Stations get a bigger slice of the pie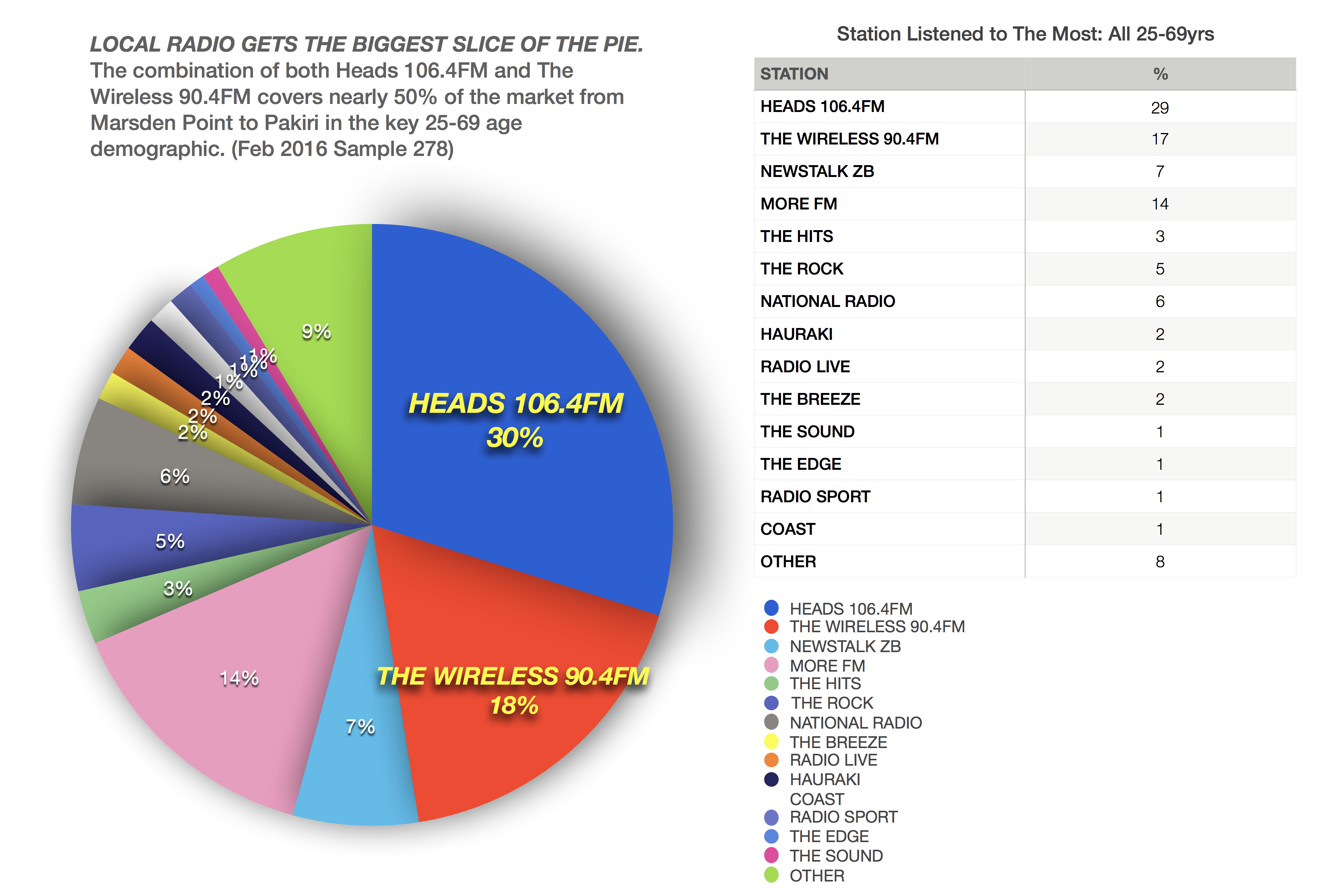 What our advertisers have to say
"We know what it's like being the little guy in a world dominated by big mass marketing corporates. The radio business is not too dissimilar to the brewing business…..big brands, big noise, big money…. Our small, craft beer brewery has carved a niche in the area providing award winning brews and gaining a great reputation, and we support our local stations Heads FM and The Wireless FM as they have also done the same in their field. Gaining audience, kudos and giving great value for money. Plus we know what we spend with them, they spend with us!! That's the benefit of being local"
– GEOFF GWYNNE, MCLEODS BREWERY
"Heads FM has been instrumental in establishing our brand (Rush Coffee) in the Mangawhai/Bream Bay area. From the outset Mark has been there for us, initially writing, voicing and producing multiple ads. Heads FM has given small local businesses access to one of the top talents in the country – a resource that we could never have afforded elsewhere. In advertising with Heads FM you will have the best and most cost effective reach in to the Mangawhai/Bream Bay area while helping support one of the greatest assets our community has. You'll be getting top class professional services at a ridiculously affordable price and of course you are aligning your brand with the best playlist on the planet! Thank you to Mark and Maureen for your support of our community, local groups and local businesses. We are extremely privileged to have such renowned industry professionals and such an amazing resource in our community."
– HAYDEN PRUJEAN, RUSH COFFEE
"For us, advertising on the radio has been the most cost effective way of reaching the local community. It's great hearing how a customer heard our ad on the local radio and it reminded them they needed to come and see us. We tried the free papers, with limited success but now stick with Heads FM and the Wireless almost exclusively. Great value for money!"
– MIKE STEVENS, MANGAWHAI OPTOMETRISTS
"Westmoreland Homes has been advertising with Mark and Heads FM for as long as we've been building in Mangawhai and surrounding areas. Even though there are larger national radio stations that cover our area, Mark's stations are in my opinion the most listened to in this region. On almost every building site our builders have the radio tuned to Heads FM. When it comes to value for money and bang for your buck, Mark and Heads FM are way ahead."
– WILLIE HEWITT, DIRECTOR OF WESTMORELAND HOMES